From Frost's Blog...
The subject line says it all, but let me elaborate anyway: today (Saturday) only, Amazon is running a promotion where all ebooks in the Night Huntress series are only $1.99.* Missed a book in the series? Order away while you can save tons. Been telling your friends about Cat and Bones, but they haven't tried them yet? Please point them toward the sale. At this price, they have more financial risk ordering a plain cup of coffee :). Want to give a book as a gift? Your recipient will never know how much money you saved, but remember – the sale ends at midnight tonight, so you don't have long. Click any of the covers to be taken to their Amazon page.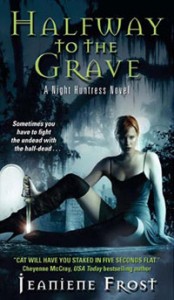 *This price is guaranteed on Saturday, August 23rd for US readers only. Sale might not apply for international customers. Sorry!